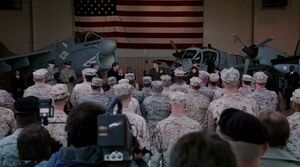 62-5874 is a Grumman OV-1 Mohawk
Appearances
Edit
Homeland.
Ep. 1.01 Pilot.
62-5874 is seen to the right of the Stars and Stripes flag during Brody's homecoming ceremony, adjacent to LTV A-7E Corsair II BuNo 159971.
Built as an AO-1B Mohawk for the US Army, 62-5874 was redesignated OV-1B in 1962.
62-5874 was passed to the Military Aircraft Storage and Disposal Center, as YA0052, on 19 February 1973. The aircraft is still flyable as N1171Y, and is currently kept at the Charlotte Historical Aviation Museum, NC.[1]
Ad blocker interference detected!
Wikia is a free-to-use site that makes money from advertising. We have a modified experience for viewers using ad blockers

Wikia is not accessible if you've made further modifications. Remove the custom ad blocker rule(s) and the page will load as expected.