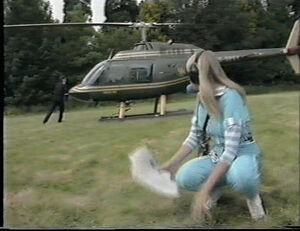 G-SPEY is a Agusta-Bell AB-206B JetRanger II
Appearances
Edit
Treasure Hunt
G-SPEY was used to relay communications between the 'Skyrunner', the studio and local authorities on UK based editions.
Come On Down! The Game Show Story
Episode 4
Ownership
Edit
Built in 1980/81 as c/n 8608[1] the helicopter was originally registered to Alan Mann Helicopters as G-BIGO on 31 December 1980, becoming G-SPEY on 1 April 1981[2] under the ownership of Graggen Chaise Management Ltd.[3] Acquired by Castle Air Ltd on 24 May 1982, it was passed to private pilot Graham Charles Elliott on 24 May 1982, before returning to Castle Air on 11 March 2008.[4]
Air Accident
Edit
On 3 September 1999, G-SPEY was engaged on a filming task in the St Austell area of Cornwall, flying at low level for which an approved exemption to the Air Navigation Order (1995) had been obtained. The passenger, who was the camera operator, had completed the third of four filming sequences and the pilot then flew to the fourth location. The pilot was aware of an 11 kilo-volt (kV) power-line which ran alongside a road but did not see the 33 kV power-line which ran across the valley. After the helicopter had flown into this power-line, and although there was no apparent damage to the helicopter, the pilot made a precautionary landing in an adjacent field. A second company helicopter was dispatched to the site with an engineer. The engineer inspected the helicopter and, with the exception of cracks to the lower windscreens, the damage appeared to be contained to the casing of the external camera mount which was then removed. The helicopter was assessed as serviceable to return to its base. Subsequent engineering investigation by the company discovered 'lightning discharge' type damage to some of the avionics and structural elements of the helicopter.
An AAIB Inspector examined some of the components from the helicopter and noted various areas of damage that appeared to be the result of high voltage electric current passing through the machine. In particular, a number of meshing gears within the main rotor gearbox showed pitting of the working surfaces of the teeth and evidence to suggest that internal damage to bearings had occurred. One of the main rotor blades was found to have suffered electrical arcing type damage on the trailing edge near the root, and further such damage at the tip. Both that blade and numerous gearbox components were judged to be damaged beyond repair.[N 1]
Ad blocker interference detected!
Wikia is a free-to-use site that makes money from advertising. We have a modified experience for viewers using ad blockers

Wikia is not accessible if you've made further modifications. Remove the custom ad blocker rule(s) and the page will load as expected.