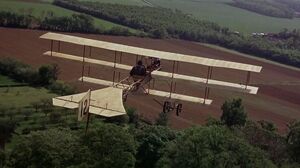 The Avro Triplane Mk.IV (replica) is a full scale copy of A V Roe's Triplane.
Appearances
Edit
Those Magnificent Men in Their Flying Machines..
Reaching for the Skies.
Built by the Hampshire Aero Club for the film Those Magnificent Men, the aircraft appeared with race number 12, as the aircraft of Sir Percy Ware-Armitage (Terry-Thomas).
Ad blocker interference detected!
Wikia is a free-to-use site that makes money from advertising. We have a modified experience for viewers using ad blockers

Wikia is not accessible if you've made further modifications. Remove the custom ad blocker rule(s) and the page will load as expected.