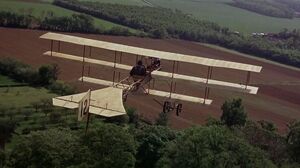 The Avro Triplane Mk.IV (replica) is a full scale copy of A V Roe's Triplane.
Appearances
Those Magnificent Men in Their Flying Machines..
Reaching for the Skies.
History
Built by the Hampshire Aero Club for the film Those Magnificent Men, the aircraft appeared with race number 12, as the aircraft of Sir Percy Ware-Armitage (Terry-Thomas).