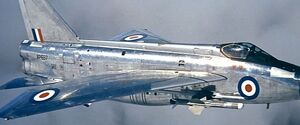 XP697 is a BAC (English Electric) Lightning F.3
Appearances
Edit
Fantômas contre Scotland Yard.
Built as C/N 95151, XP697 was first flown, without a ventral tank, by D.M. Knight at Samlesbury on 18 July 1963. Taken to Bristol for full F 6 conversion on 13 August 1963, the aircraft was first flown in F.6 configuration by R.P. Beamont on 17 April 1964. Subsequently used on programme for 2-in rocket and large ventral-tank tests, and the over-wing-tank support programme, the aircraft was sent to MoD(PE) at Warton in 1981 for static tests.[1]
Ad blocker interference detected!
Wikia is a free-to-use site that makes money from advertising. We have a modified experience for viewers using ad blockers

Wikia is not accessible if you've made further modifications. Remove the custom ad blocker rule(s) and the page will load as expected.