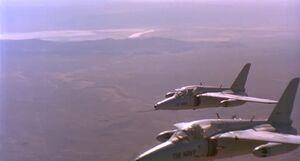 XR991 is a Folland Gnat T.1
Appearances
Edit
Built in 1964[1] by Folland Aircraft as c/n FL585, XR991 was first flown on 29 May 1964,[2] and delivered to the RAF on 1 July,[3] becoming a founding airframe of the Yellowjacks Aerial Display Team.[N 1] XR991 became aircraft 9 when the Yellowjacks were reformed The Red Arrows, remaining with the team until the Gnats were replaced with British Aerospace Hawk T.Mk1s in September 1979.[5] At this point the aircraft became maintenance training airframe 8637M[6] with the Royal Air Force College Engineering Flight at Cranwell, before being passed to the School of Aircraft Handling at Culdrose as A2709 on 27 January 1982,[2] where it remained until it was transported to Leavesden on 11 November 1987 for storage.[5]
On 3 August 1988, XR991 was registered G-BOXO by Ruanil Investments Ltd, who retained ownership until 15 August 1989, when it was transferred to the United States of America[7] becoming N1CL.
Ad blocker interference detected!
Wikia is a free-to-use site that makes money from advertising. We have a modified experience for viewers using ad blockers

Wikia is not accessible if you've made further modifications. Remove the custom ad blocker rule(s) and the page will load as expected.